LW–MOLDMAX–II Series | LASER MOLD REPAIR
LW–MOLDMAX–II 200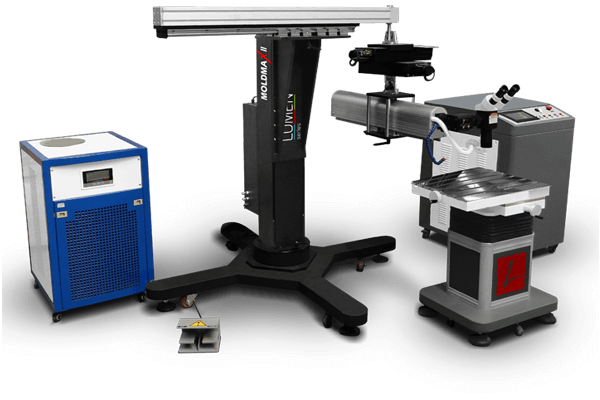 Specification LW–MOLDMAX–II 200
| | |
| --- | --- |
| Max. laser Power | 200 W |
| Laser type | Nd: YAG Pulsed |
| Wavelength | 1064 nm |
| Pulse width | ≤20 ms |
| Adjusting range of light spot | 0,1 ~ 3,0 mm |
| Pulse frequency | ≤100 Hz |
| Laser output focus length | 150 mm |
| Protective gas | Argon,Xenon,.. |
| Worktable size | 500 × 350 mm |
| Worktable bearing load | <200 kg |
| X axis travel | 200 mm |
| Y axis travel | 200 mm |
| Z axis travel | 150 mm |
| Travel control | Manual / Joystick |
| Rotation degree | 360° (adjustable) x 2 |
| Magnification | 30X |
| Chiller | Water cooling system 1 HP |
| Welding wire dimension | 0,1 ~ 1,0 mm |
| Reach of arm | Radius 2000 mm |
| Max height under laser head | 1200mm |
Details LW–MOLDMAX–II 200
Laser Welding - The Closest Thing to a Perfect Weld!

For as long as there have been molds used in manufacturing, there has been the need for welding to repair or restore components and restore surfaces machined or worn out of specification. Welding also is the option most often used to reduce cost and lost time when compared to making new mold components.

One of the fastest growing technologies currently used for mold repair is the use of laser welding systems as an alternative to traditional welding methods. Laser welding systems can be used to fill porosity, refill damaged surfaces including porosity and "pits," run a bead of alloy along a complex edge and correct manufacturing defects. Laser welding reconfigures the molecular structure of either similar or dissimilar metals at the point of welding, allowing the two common alloys to become one.

Tool and die shops currently using laser welders are often amazed at the wide range of applications and the ability to produce a higher quality product in less time with fewer materials while eliminating excessive heat effects.


Laser Welding Over Traditional Welding Methods

TIG and MIG welding have long been recognized as good choices for welding small components because of their excellent finish. However, such welding requires skill and dexterity, and despite their controllability, they suffer from several disadvantages. Laser welding is an excellent substitute that outperforms arc welding processes, and its tightly focused beam limits heating effects. Laser welding is capable of welding tasks beyond the capability of traditional welding methods.


Traditional Welding Methods

TIG and MIG processes use a shielding gas to create an inert atmosphere around the welding head. With TIG, the arc is created by a tungsten electrode, and a hand held filler material used, whereas with MIG welding the electrode is the filler wire. These welders can be adjusted to permit welding of delicate components and the final weld quality is high. Another frequently used method is spot-welding which works by clamping parts between a pair of electrodes and passing an electric current. All arc and spot-welding processes transfer a significant amount of heat to the work piece, affecting the metallurgical structure around the weld.


Laser Welding

The heat required for welding is supplied by a tightly focused light beam with a diameter even as small as 0.01mm. Welding is conducted by firing a series of short pulses that melt the metal to create a high-quality weld. Depending upon the particular welding task, filler material may be required as with TIG welding. Because the laser beam is tightly focused, heat input is minimized and parts can be handled almost immediately.

Laser Welding Advantages
Precise control of the laser beam offers users several benefits over TIG, MIG and spotwelding:
✓ Weld strength: The laser weld is narrow with an excellent depth-to-width ratio and higher strength.
✓ Heat affected zone: The heat affected zone is limited, and due to rapid cooling, the surrounding material is not annealed. Lasers are excellent for welding fine and delicate metal components and generating minimal internal stresses due to the minimal heat input.
✓ Metals: Lasers successfully weld carbon steel, high strength steel, stainless steel, titanium, aluminum, and precious metals as well as dissimilar materials.
✓ Precision work: The small, tightly controlled laser beam permits accurate microwelding of miniature components.
✓ Deformation: Parts have minimum deformity or shrink.
✓ No contact: No physical contact between the material and laser head.
✓ One sided welding: Laser welding can replace spot welding requiring access from one side only.
✓ Scrap: Laser welding is controllable and generates low volumes of scrap. The precise controllability and negligible heating effects make it a good choice for welding high value, high precision parts including precious metals.
✓ Aesthetics: Laser welding finishes are excellent. Non-contact welding and no welding splatter ensures clean and bright surface when welding.
✓ Limited access: The non-contact laser beam permits welding in otherwise inaccessible areas.

Laser build-up/deposit welding with wire/powder

When you are looking for a fast, easy and exact repair welding process then the right solution for you is laser welding with wire. Laser welding with wire is a very precise repair welding technique. The manual systems allow extensive flexibility with regard to the welding tasks. Comprehensive CAD data is not required, in contrast to robot-supported laser welding.

Deposition laser welding with lasers offers an economical alternative to the construction of new tools. A laser-welded tool frequently achieves a service life comparable to that of an entirely new tool.

By using powder existing workpieces can be coated, repaired or 3-dimensionally extended. Sandwich constructions with different powders per layer are also possible.

This makes fast, precise welding possible. The filler material to be used is selected based on the repair task and the requirements for the coating. A wide range of filler materials are available to you.

Lasers in tool and mould construction can do a great deal more than just deposition laser welding. They are also used for generating and coating applications.

Applications

Laser welding is a fusion-welding process that differs dramatically from conventional welding processes relative to the heat input to the part. Due to the focusing of the laser beam to a few tenths of a millimeter diameter and the extremely short welding time, very little energy is required to fuse the material. The weld pulse lasts only a few thousandths of a second. Before the next pulse arrives at the workpiece, the molten material has already solidified again. This results in a series of small welds, each of which offers the following individual advantages:

• Only a very small volume is fused with minimal heat input. This enables distortion-free welding, frequently without the need for preheating.
• The heat affected zone measures only a few tenths of a millimeter with minimal change in the structure. With the right choice of filler material all subsequent processing, such as polishing or etching, can be carried out without a problem.
• Loss of hardness and resilience in the basic material hardly ever occurs, no does any coarse-grain zone or undercut.
• Welds typically have adequate hardness as deposited, not requiring pre- or post-weld heat treatment.
• The welds are one hundred percent reproducible.

The unique properties of laser welding give it a significant advantage over other forms of welding that can be exploited in several ways and enable critical tool steels and even copper and aluminum to be successfully welded:

• Mold alteration and modification instead of manufacturing a new part
• Repair of manufacturing flaws
• Injection molding tools
• Shaping tools
• Motor construction
• Mechanical engineering
• Forging tools
• Die casting tools
• Repair and processing of parts that cannot be repaired with typical techniques
• Creation of 3D contours
• Repair of polished surfaces
• Restoration of worn parts

The LW-MOLDMAX II Series

Extremely Powerful, Reliable and Adaptable
The LW-Moldmax-II combines flexibility and stability in servicing and repairing small precision components for the aerospace industry as well as large die-casting molds that are, for example, required for the manufacturing of automobile bumpers. The mobile laser system can easily be moved and fixed in a stable position.

The movement of the axes permits a very long traverse range, which is accomplished via the joystick. The welding position can be determined at a precision of 0.1 mm.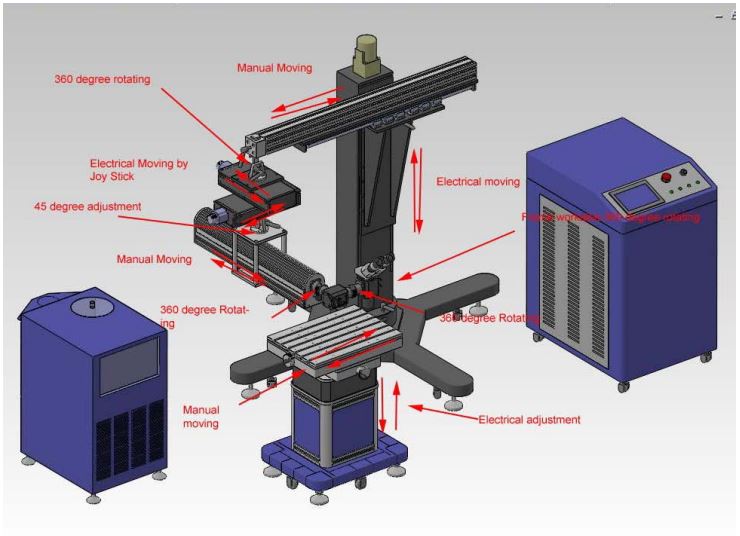 The Lasermach LW-Moldmax-II is an ideal solution for big or recessed work pieces. As a result of the swiveling arm and the mobile resonator, the welding of large components is virtually independent of geometry and position! In the process, 3D geometries are easily mastered. The stable and rigid construction gives you the opportunity to extend or raise the standardized swivel arm to achieve an even greater traverse range.


UNIQUE PATENTED HEAD: 360° x 360° welding
LW-Moldmax-II Universal Jig Welding Workstation offers a significant, competitive advantage for today's operators looking to unleash the power of hot light, benefit from a comfortable, ergonomic design and ensure optimal platform flexibility for the widest range of on-site mold repair applications. Our head is the most flexible on the market, we reach all angel possible and we are the only one who always welds with a perpendicular laser beam.

SUPER FLEXIBILITY


The rising demand for laser welding solutions for very small series or individual parts motivated us to develop a new laser welding system for individual needs.

In addition to our own practical experience, we also implemented suggestions from our customers.

The practically-oriented operation of the laser welding system offers sufficient user comfort for efficient laser welding.

The requirements placed on a workstation for laser welding can vary a great deal, depending on the job. They depend on the size and geometry of the workpiece to be processed and on the frequency of laser use. With the LW MOLDMAX II, all variations are possible: manual, joystick-guided or programmed transverse feed motion are all options, as are having the workpiece or the welding optics carry out the required movements them-selves.

MODUS 1: Repair on table




The axes follow the movements of the joystick - simultaneously


MODUS 2: Repair on the mold (when mold is too big)
Even workpieces weighing several tonnes having super complex geometries, mirror finished surfaces and near surface cooling channels. The LW Moldmax II transfers the advantages of laser welding to workpieces such as these. At the same time, the machine has unlimited suitability for workpieces measuring only a few millimeters.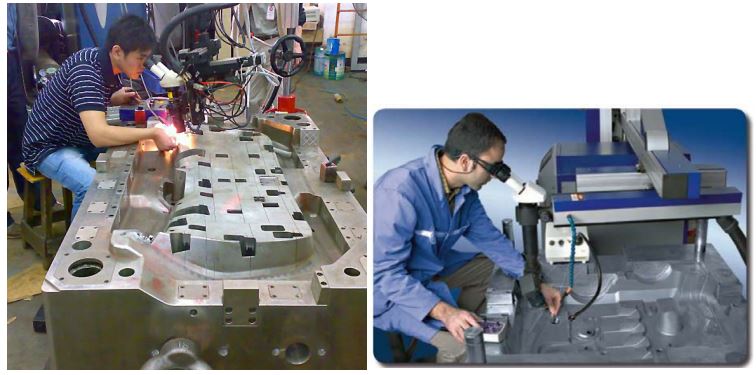 To cover this broad range of different workpieces, all linear movements on the Moldmax II are carried out by the laser. The workpiece itself remains stationary - which means the precision and dynamics of the machine are workpiece-independent. The focusing optic can thus be moved almost completely out of the working area. Loading with forklift, crane or platform-lift truck is not needed, simple roll our Moldmax II to the workpiece.
MODUS 3: Repair on the mold on specific working spot or workbench
MODUS 4: Repair on the mold on the machine
Production tools often have to be demounted with considerable effort, even due to small defects. This problem belongs to the past. Our extremely flexible laser welding equipment now comes to the rescue.



Applications



Welding up Tool/Mold Cracks and holes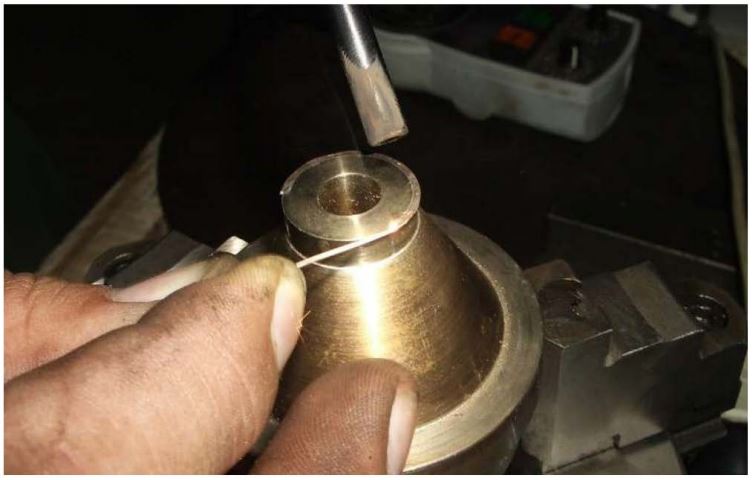 Welding together Tool/Mold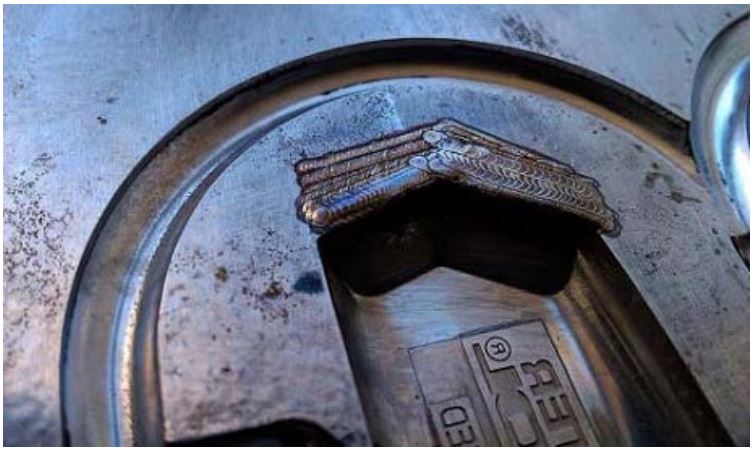 Welding up Tool/mold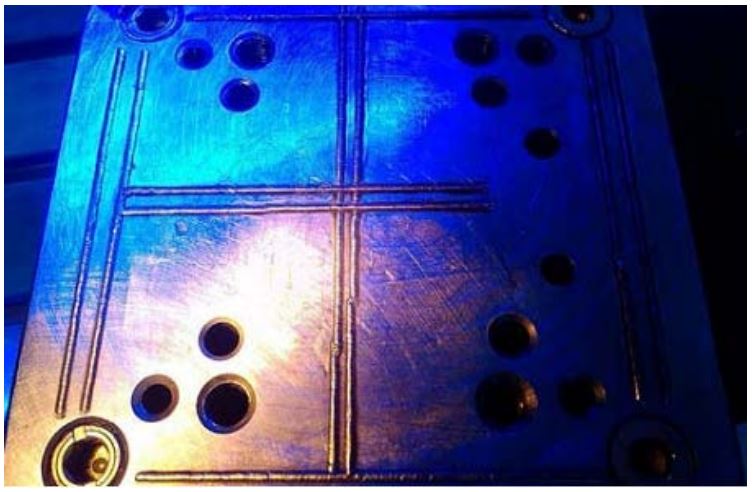 Welding up Tool/mold base plates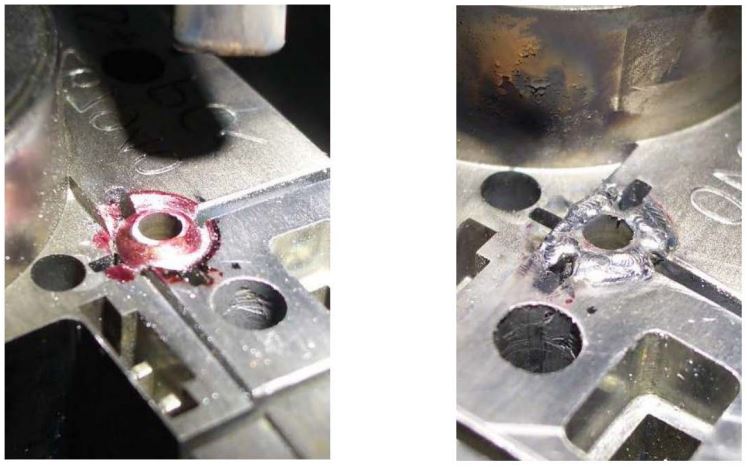 LASER WELDING WIRE


When laser welding, the adjoining alloys are first welded together depending on the alloy you are welding. This will create the welding bond.

During the laser welding process, a small amount of alloy is vaporized which leaves a slight dip in the surface of the welded joint. The laser welding operator then fills in that dip with laser welding wire. A smoothing operation can then be performed to minimize the final clean up. The finished product in the end is entirely the same material. Since the parts are laser welded together first, only small amounts of laser welding wire are typically used as a filler. There is no wasted wire.

The laser weld is so precise; the welding wire can be added only where it's needed. There is never any unintentional overflow. Good laser welding wire is the parent alloy and will never break down in strength and never discolour over time. A good laser weld is typically 90% as strong as the virgin alloy or 250 times stronger than the best solder.

Laser welding wire can also be used to bridge small gaps, fill porosity holes and reinforce existing parts or welds. Welding wire is also used any time additional metal is required to complete a weld or build up material.


Laser Equipment Safety
The laser equipment can be very hazardous. The high voltages present in the laser power supply and the laser cavity are lethal. Only trained personnel should be allowed to repair the laser equipment. The laser light can cause permanent damage to the eye - the collimated nature of the laser light allows for focusing of the light on the retina in the eye. Direct laser light or scattered laser light allowed to enter the eye can cause partial to total permanent blindness. A laser safety program should be initiated and laser safety training should be given to all individuals before using any laser welding system.

Standard accessories:

• Control panel
• Laser source unit
• Manual or Joystick for XYZ movements
• Liftable Table with T-slot
• Super flexible extendable and movable support
• Patented laser head with
• Microscope Bi-ocular = 3D view
• Welding pen
• Welding wires Basic set 100 pieces of different filling material
• Beam expander
• Focusing lens
• Protective Glasses 1 set
• Protective lens
• Water cooling system
• Foot switch
• Work lamp

profimach, profi, machinery, machinetools, machine tool,machine tools, euro, profiturn, profimill, euroturn, euromill, conventional,turning lathe, conventional turning lathe, saw, profisaw, sawing, eurosaw, metal cutting, metal milling, precision, turning, complex milling, complex turning, cylindrical grinding,machine tools suplier, machines, machinetools, machine-tools, maintainance machine tools, grinder surface, drill, conventional drilling, cnc drilling,wire, wire bending, bender,forging hammer, rebar, rebar process, horizontal band saw, vertical band saw, honning, plasmacut, oxycut,thread, cutting, routers,routers, marble cnc rounters, Granite, marble, Sandstone and other stone engraving , signs, mold, copper, aluminium, plastic, as well as various metal signs, woodboards and other non-metal materials, woodworking, signage, advertising industry such as architectural model, glass, ProPlus Industry, Profimach,oxy cutting, plasma, Oxy-fuel/plasma, cutting pipes, cutting process, gantry type, CNC Pipe Oxy-fuel/plasma Cutting, aluminium, copper steel, plasma generator, oxy-fuel, beveling, grooving, multi-branch and shrimp sections, 3d cutting,i nduction furnace,induction furnace manufacturer, melting furnace, smelting furnace, electric furnace, induction melting furnace, induction smelting furnace, induction holding furnace, melting aluminum,induction,furnace, furnaces, heating system,applications, Induction heating application,Induction Heating Machine, Induction Heating Equipment,Induction Melting Machine,Furnace manufacturer,Aluminum melting furnace, Copper melting furnace,eco type,cupro type,alupro type,pro series,drill, drilling, conventional drilling machines, radial drilling, column type, counterboring, reaming, boring, tapping, Coordinate Radial Drilling, profimach, cnc drilling, plate drill, cnc drilling plate, drilling milling machines, Steel Structure, Bridge, Electric-communication Tower, Heat Power Station, and Boiler, cutting tool, deep hole drilling, edm drilling, DRILL SMALL & DEEP HOLES ON EXTRA HARD STEEL, ALLOY, METALLIZER, POWDER METALLURGY AND ON METALS THAT ORDINARY DRILLING MACHINE UNABLE TO WORK ON. MAKE STARTING HOLES FOR WIRE-CUTTING, center drilling, microdrilling, drill in metal, drilling in wood, woodworking, spot drilling, novick, chmer, novick edm machines,grinder, grinding, ABRASIVE BELT GRINDING MACHINES, widebelt grinder, dry operation, wet operation, steel meta, aluminium, copper, and alloy zinc, surface napping, surface finishing, deburring, finishing, polishing, graining, lathe, heavy duty lathe, profimach lathe,Novick, Novick Europe, novick edm, novik edm, novik, novik europe, EDM, cnc, nc, cnc edm, novick cnc, masini EDM, EDM europe, prelucrare cu descarcare electrica, masini electroeroziune, Sink EDM, edm gaurire, electroeroziune prin fir, cu imersie, prelucrare prin descarcare electrica, prelucrare edm, masini de gaurit EDM, tehnologie EDM, gaurire gauri mici EDM, Chmer,,A422SL, P4030SL, D4030CL, CM A53CP, AH53C, HM65T, P3020SL submerged type, P4030SL submerged type, P5030SL submerged type, RX853F flushing type, RX853S submerged type, RX1063F flushing type, RX1063S submerged type, RX1065S, RX1283S, Q43SL sybmerged type, Q53SL,EDM, WIRE EDM, WIRE CUT EDM, WIRE CUTTING MACHINE, DIE SINKER EDM, DIE SINKING EDM, HOLE DRILLING, CNC SINKER EDM, HIGH SPEED MILLING MACHINE, CNC WIRE CUT, HIGH SPEED MILLING MACHINE, CNC WIRE CUTlasermach, laser, laser machines, laser equipment, fiber laser, metal pipe, sheet fiber laser, sheet laser cutting, laser cutting, lines, holes, square pipe, stainless steel, plate, aluminium, copper, precision cutting machines, laser marking machines, metal laser, PLATE-METAL SHEET CUTTING, gantry type laser cutting, Lasermach, yaweimilling machines, conventional milling, cnc milling, mill, vertical machining center, horizontal milling, horizontal machining center, Engraving & copy milling machines, Bedmilling machines with moving table, Coordinate boring & milling machines, milling and boring, bed type milling, 5 axis machining, gear milling, 5 face machining center, universal milling machining center, radial milling, milling drilling machines, turret type, high speed vertical, milling centers, bridge type machining center, horizontal boring, boring and milling, gantry type, Profimach, Quaser, You Ji, Awea, Challenger, Fanuc, Kiheung, special purpose milling machine, Vertical machining centers, thread milling machines , gantry milling machineslathe, turning lathe, cnc lathe, vertical turning lathe, complex lathe, complex turning lathe, teach in lathe, lathes, swiss type turning lathe, cnc complex, slant bed, slant bed turning lathe, universal lathe, heavy duty lathe, gap bed lathe, heavy duty turning lathe, Aluminum-Wheel Turning Center, gs series, ga series, flat bed cnc lathe, turning diameter, swing over bed, mac turning diameter, oil country lathe, profimach, goodway, twin spindle, twin turrets, multi tasking,gms series, sd series, sw series, swiss type, swiss turning centers, youji you ji, vertical tunring center, challenger, metal turning, precision turning, goodway cnc lathe, high precision lathe, cnc turning latheoxy cutting, plasma, Oxy-fuel/plasma, cutting pipes, cutting process, gantry type, CNC Pipe Oxy-fuel/plasma Cutting, Profimach, aluminium, copper steel, plasma generator, oxy-fuel, beveling, grooving, multi-branch and shrimp sections, 3d cuttingtube, tubes, bending, bend, cnc tube, nc tube bender, soco, tube benders, Pipe Bending Machines, single or multi-tasking, Tube Benders , Pipe Benders, Cutting Machines,Tube End Finishing Machines, HYDRAULIC ROTARY BENDING, bending accuracy, cutting automation, metal forming process, clamping system, iron worker, ironworker, metal bars, square and round bars, various profiles, pipes, shear cutting, stamping drilling and cutting of various forms, multifunctional ironworker, CNC press brakes, press brake,press brake cnc, press brakes nc, cnc, yawei, tandem press brake, hydrulic crowning, Cybelec DNC600S, Delem DA52 , controller, bending accuracy, HEIDENHAIN linear scales, Upper tool mechanical wedge clamping,cnc pressbrake,PBB,PBH,PBA,PBE,PBM, electro-hydraulic syncronised cnc pressbrake , Yawei-Nisshinbo, small press brake, press brake forming, high speed press, cnc press, servo electric press brake, molding press, yawei press brake, advanced press, platecutting, thread cutting, Profimach, pipe and bar,cnc, plate drilling,Steel Structure, structural component, profimach,rebar, wire cold rolling, straightening, stirrup bender, Wire Mesh Welding Line, Lattice Girder Welding Machines, Cage Making, Rebar Bending, construction, complete processing solution, profimach,steel shapes,beam, chanel, angle, plate, T-shaped cross-section, square,bar, steel fabrication equipment