SMART Series | High Precision Bench Lathes
SMART PT-018-300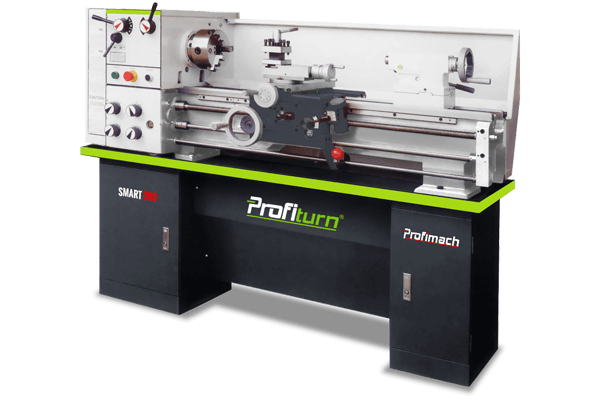 Specification SMART PT-018-300
| | |
| --- | --- |
| Main power | 1.1 kW |
| distance between centers | 914 mm |
| spindle speed range | 60~1500 rpm |
| width of bed | 185 mm |
| Top slide travel | 85 mm |
| Cross slide travel | 160 mm |
| Swing over gap | 430 mm |
| Machine dimensions(LxWxH) | 1.6x0.7x1.2 m |
| hole through spindle | 38 mm |
| swing over bed | 300 mm |
| max turning length | 760 mm |
| swing over cross slide | 178 mm |
| Machine weight | 480 kg |
Details SMART PT-018-300
The headstock is made of high quality cast iron, heavily ribbed, is designed to absorb vibration even in hardest machining cycles. The rigid, large main spindle runs in high-precision adjustable taper roller bearings. The gearbox offers a wide range of cutting speed plenty of torque allowing machining of various materials. It is designed to have a smooth running with low vibrations and with a closed shape.

The slides are of an extremely rigid construction and the backlashes are adjusted by means of tapered keys. The slides are endowed with rubber wipers avoiding the guideways gripping. The carriage, fixed on the longitudinal slide, provides automatic feeds, rapid feeds and working feeds, as well as, manual feeds in two directions(longitudinal and cross).
The cross slide runs in a dove-tail guideway. Adjustment via pressure plate. Feed automatic or with hand wheel. Both the longitudinal and cross slides can be clamped. The upper slide with dove-tail guideway can be pivoted 360°. A feed lever with safety lock prevents longitudinal and axial feed switch-through.

The steady rest serves as a support for long shafts (length to diameter ratio of 3:1 or greater). The steady rest can be placed anywhere along the length of the workpiece.
The bed and major components are made of high quality cast iron, to guarantee better damping and rigidity properties.


The tailstock, made of top quality, has a rigid construction, vibration absorbing and can easily travel along the bed guideways. A lead screw, driven by hand wheel, allows axial movement of the quill on a 100 mm maximum travel.
DIGITAL READOUT module


- 200 Points Auxiliary Zero Position Function
- Mid-split Function
- "mm/inch" Conversion Display
- Radius/Diameter Switch Display
- Segmented Error Compensation
- Linear Error Compensation
- Power Interruption Memory
- Sleep Switch
- Mathematics calculation
- RS-232-C interface (option)

SPECIFICATIONS
The PROFIMACH DRO SDS6-2V is a Multifunctional 2 axis digital readout. It can adapt the different needs of machining by modifying the system parameters. It has many graphics machining functions, such as: Arc Calculation function, circular equally dividing holes, drilling hole along an oblique line, Angular Surface Processing, Calculation function, Measurement for Taper Function, Digital Filter Function. These functions bring the easiness for the graphics function.

MACHINING FUNCTIONS
- PCD circumferential division (Applicable to milling machine and spark tester)
- Involutes chamber machining function (Applicable to milling machine)
- Bevel machining/Angular Surface Processing (Applicable to milling machine)
- N3 function (Applicable to milling machine)
- Diagonal boring (Applicable to milling machine)
- R-arc function (Applicable to milling machine)
- Taper measuring function (Applicable to lathe)
- 200-tool library (Applicable to lathe)
- Anti-dithering function (Applicable to grinding machine)


profimach, profi, machinery, machinetools, machine tool,machine tools, euro, profiturn, profimill, euroturn, euromill, conventional,turning lathe, conventional turning lathe, saw, profisaw, sawing, eurosaw, metal cutting, metal milling, precision, turning, complex milling, complex turning, cylindrical grinding,machine tools suplier, machines, machinetools, machine-tools, maintainance machine tools, grinder surface, drill, conventional drilling, cnc drilling,wire, wire bending, bender,forging hammer, rebar, rebar process, horizontal band saw, vertical band saw, honning, plasmacut, oxycut,thread, cutting, routers,routers, marble cnc rounters, Granite, marble, Sandstone and other stone engraving , signs, mold, copper, aluminium, plastic, as well as various metal signs, woodboards and other non-metal materials, woodworking, signage, advertising industry such as architectural model, glass, ProPlus Industry, Profimach,oxy cutting, plasma, Oxy-fuel/plasma, cutting pipes, cutting process, gantry type, CNC Pipe Oxy-fuel/plasma Cutting, aluminium, copper steel, plasma generator, oxy-fuel, beveling, grooving, multi-branch and shrimp sections, 3d cutting,i nduction furnace,induction furnace manufacturer, melting furnace, smelting furnace, electric furnace, induction melting furnace, induction smelting furnace, induction holding furnace, melting aluminum,induction,furnace, furnaces, heating system,applications, Induction heating application,Induction Heating Machine, Induction Heating Equipment,Induction Melting Machine,Furnace manufacturer,Aluminum melting furnace, Copper melting furnace,eco type,cupro type,alupro type,pro series,drill, drilling, conventional drilling machines, radial drilling, column type, counterboring, reaming, boring, tapping, Coordinate Radial Drilling, profimach, cnc drilling, plate drill, cnc drilling plate, drilling milling machines, Steel Structure, Bridge, Electric-communication Tower, Heat Power Station, and Boiler, cutting tool, deep hole drilling, edm drilling, DRILL SMALL & DEEP HOLES ON EXTRA HARD STEEL, ALLOY, METALLIZER, POWDER METALLURGY AND ON METALS THAT ORDINARY DRILLING MACHINE UNABLE TO WORK ON. MAKE STARTING HOLES FOR WIRE-CUTTING, center drilling, microdrilling, drill in metal, drilling in wood, woodworking, spot drilling, novick, chmer, novick edm machines,grinder, grinding, ABRASIVE BELT GRINDING MACHINES, widebelt grinder, dry operation, wet operation, steel meta, aluminium, copper, and alloy zinc, surface napping, surface finishing, deburring, finishing, polishing, graining, lathe, heavy duty lathe, profimach lathe,Novick, Novick Europe, novick edm, novik edm, novik, novik europe, EDM, cnc, nc, cnc edm, novick cnc, masini EDM, EDM europe, prelucrare cu descarcare electrica, masini electroeroziune, Sink EDM, edm gaurire, electroeroziune prin fir, cu imersie, prelucrare prin descarcare electrica, prelucrare edm, masini de gaurit EDM, tehnologie EDM, gaurire gauri mici EDM, Chmer,,A422SL, P4030SL, D4030CL, CM A53CP, AH53C, HM65T, P3020SL submerged type, P4030SL submerged type, P5030SL submerged type, RX853F flushing type, RX853S submerged type, RX1063F flushing type, RX1063S submerged type, RX1065S, RX1283S, Q43SL sybmerged type, Q53SL,EDM, WIRE EDM, WIRE CUT EDM, WIRE CUTTING MACHINE, DIE SINKER EDM, DIE SINKING EDM, HOLE DRILLING, CNC SINKER EDM, HIGH SPEED MILLING MACHINE, CNC WIRE CUT, HIGH SPEED MILLING MACHINE, CNC WIRE CUTlasermach, laser, laser machines, laser equipment, fiber laser, metal pipe, sheet fiber laser, sheet laser cutting, laser cutting, lines, holes, square pipe, stainless steel, plate, aluminium, copper, precision cutting machines, laser marking machines, metal laser, PLATE-METAL SHEET CUTTING, gantry type laser cutting, Lasermach, yaweimilling machines, conventional milling, cnc milling, mill, vertical machining center, horizontal milling, horizontal machining center, Engraving & copy milling machines, Bedmilling machines with moving table, Coordinate boring & milling machines, milling and boring, bed type milling, 5 axis machining, gear milling, 5 face machining center, universal milling machining center, radial milling, milling drilling machines, turret type, high speed vertical, milling centers, bridge type machining center, horizontal boring, boring and milling, gantry type, Profimach, Quaser, You Ji, Awea, Challenger, Fanuc, Kiheung, special purpose milling machine, Vertical machining centers, thread milling machines , gantry milling machineslathe, turning lathe, cnc lathe, vertical turning lathe, complex lathe, complex turning lathe, teach in lathe, lathes, swiss type turning lathe, cnc complex, slant bed, slant bed turning lathe, universal lathe, heavy duty lathe, gap bed lathe, heavy duty turning lathe, Aluminum-Wheel Turning Center, gs series, ga series, flat bed cnc lathe, turning diameter, swing over bed, mac turning diameter, oil country lathe, profimach, goodway, twin spindle, twin turrets, multi tasking,gms series, sd series, sw series, swiss type, swiss turning centers, youji you ji, vertical tunring center, challenger, metal turning, precision turning, goodway cnc lathe, high precision lathe, cnc turning latheoxy cutting, plasma, Oxy-fuel/plasma, cutting pipes, cutting process, gantry type, CNC Pipe Oxy-fuel/plasma Cutting, Profimach, aluminium, copper steel, plasma generator, oxy-fuel, beveling, grooving, multi-branch and shrimp sections, 3d cuttingtube, tubes, bending, bend, cnc tube, nc tube bender, soco, tube benders, Pipe Bending Machines, single or multi-tasking, Tube Benders , Pipe Benders, Cutting Machines,Tube End Finishing Machines, HYDRAULIC ROTARY BENDING, bending accuracy, cutting automation, metal forming process, clamping system, iron worker, ironworker, metal bars, square and round bars, various profiles, pipes, shear cutting, stamping drilling and cutting of various forms, multifunctional ironworker, CNC press brakes, press brake,press brake cnc, press brakes nc, cnc, yawei, tandem press brake, hydrulic crowning, Cybelec DNC600S, Delem DA52 , controller, bending accuracy, HEIDENHAIN linear scales, Upper tool mechanical wedge clamping,cnc pressbrake,PBB,PBH,PBA,PBE,PBM, electro-hydraulic syncronised cnc pressbrake , Yawei-Nisshinbo, small press brake, press brake forming, high speed press, cnc press, servo electric press brake, molding press, yawei press brake, advanced press, platecutting, thread cutting, Profimach, pipe and bar,cnc, plate drilling,Steel Structure, structural component, profimach,rebar, wire cold rolling, straightening, stirrup bender, Wire Mesh Welding Line, Lattice Girder Welding Machines, Cage Making, Rebar Bending, construction, complete processing solution, profimach,steel shapes,beam, chanel, angle, plate, T-shaped cross-section, square,bar, steel fabrication equipment