Specification PRD1300-40
| | |
| --- | --- |
| max drilling diameter | 40 mm |
| spindle axis to column | 300 - 1300 mm |
| spindle nose to table surface | 300 - 1120 mm |
| spindle head travel(horizontal) | 1000 mm |
| quill travel | 280 mm |
| spindle taper | MT4   |
| spindle Speed Range /steps | 32-2500 / 16 rpm |
| feed range/steps | 0.1-1.25 / 8 mm/rev |
| Dimension of Box Table | 600 x 450 x 450 mm |
| Dimensions of Base | 2050 x 900 x 200 mm |
| Working Surface of Base Plate | 1330 x 750 mm |
| spindle motor power | 3 kW |
| overall dimension(L*W*H) | 2100 x 900 x 2490 mm |
| Machine weight | 2500 kg |
Details PRD1300-40
RADIAL DRILLING MACHINES

As the global market leader in ECONOMICAL metal working machinery, PROFIMACH® offers the best and easiest entry into the world of metal cutting industry and all metal mass production business at a very affordable budget. We offer a wide range of product choices for every metal processing job. Our machines bring a cost-effective, low-maintenance, environmental-friendly solution to your organization.

PROFIMACH'S conventional and CNC machine tools are built by top machine tools manufacturers to satisfy the highest and toughest standards demanded by the high tech European market. We deliver a machine that provides quality cutting and high tolerances, low productivity loss between jobs and less maintenance costs -- equating to a higher return on investments.

Our success is built on long-standing customer relationships, technical expertise and sensitivity to our customer needs. We always look for improving our efficiency while adding extra value for the benefit of our customers.

Main features of the Profimach PRD Series

PROFIMACH© radial drilling machines are perfect for tools and devices manufacturing, as well as for single and series parts manufacturing. These machines are characterized by their straight-forward handling, powerful drilling performance, extreme stability and large traversing range. The Profimach radial drill range is unbeatable in price and performance, the machines are used for drilling, reaming and tapping.

High precision, flexibility and simple operation making these machines irreplaceable for each production plant where quality is imporatant.

The gear wheels are hardened and precision ground. Hardened and ground guide way are used for smooth movement of the head. They provide precision, efficiency and dependability in one-off and batch production environments.

The drill's frame is made from a high-quality fine-grain cast iron with heavy ribbing to ensure maximum reduction of vibrations. Precision ground gears ensure that the machine runs quietly, and the practical layout of the electrical and mechanical controls at the headstock make for easy operation. The machines are also fitted with motorized arm height adjustment and mechanical clamping for the head, column and arm. Hardened and ground guide way for smooth movement of the head.

The main castings of the PROFIMACH PRD radial arm drilling machines are high quality cast iron, reinforced by a system of crossed ribs and boxed sections. All castings are hardened to 200-220HB.

The column is a vertical rotating column with manual clamping as standard, hydraulic clamping being optional.

The spindle and quill are manufactured from special forged steel and are constructed to reduce vibration to a minimum. The quill is machined with utmost accuracy and the teeth are cut from the solid and are also ground to ensure maintained accuracy for the feed rate. The spindle is mounted in double row roller and thrust bearings protected by a grease seal and is secured by an anti-vibration lock-nut at the top of the spindle. The spindle and quill assembly are fitted with a counter-weight providing uniform smoothness of the entire stroke. The quill over-travel is protected by a special safety device and the arm raising and lowering special safety device prevents over-travel.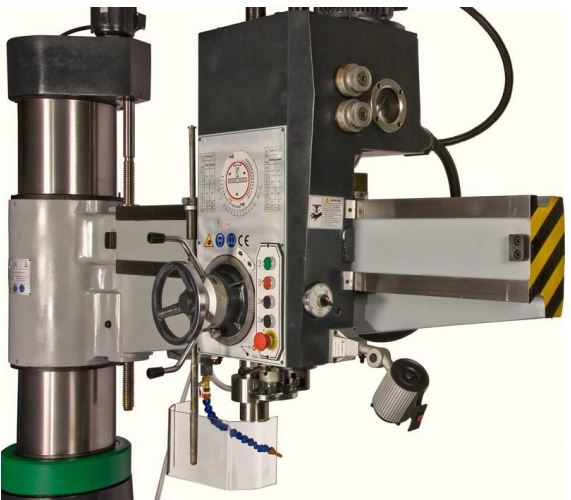 The headstock is a totally enclosed unit including the gearing for the spindle speeds and feeds. The feed mechanism also provides a depth stop mechanism. All gears are made of nickel chrome steel and are hardened and ground, with lubrication provided by an automatic lubrication pump. Coolant equipment is supplied as standard and consists of a motor driven pump complete with piping to the drill point and return piping to the sump.

Machine details
• The power train gears and spline shaft are made of the finest quality, heat treated and ground nickel-chrome steel, giving extra strength and smoothness to high torque loads;
• The spindle is made of the finest case hardened steel for extra strength and wear;
• The spindle is built to withstand exceptionally heavy drilling and boring loads and to insure maximum accuracy;
• Entire frame is made of Meehanite and high tensile strength cast iron to handle the heaviest of jobs;
• Hydraulic head and column clamping
• Lifting motor allows for easy height adjustment of radial arm
• Ergonomically grouped controls for operating convenience.
• Built in work light
• Coolant pump
• Tool kit included
• Box table as standard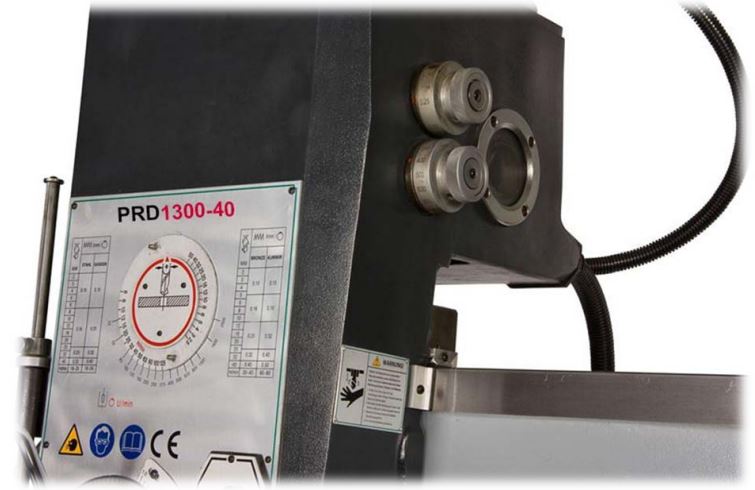 Standard accessories:
• Coolant system
• Cube table
• Working light
• Operator manual
• CE norms

profimach, profi, machinery, machinetools, machine tool,machine tools, euro, profiturn, profimill, euroturn, euromill, conventional,turning lathe, conventional turning lathe, saw, profisaw, sawing, eurosaw, metal cutting, metal milling, precision, turning, complex milling, complex turning, cylindrical grinding,machine tools suplier, machines, machinetools, machine-tools, maintainance machine tools, grinder surface, drill, conventional drilling, cnc drilling,wire, wire bending, bender,forging hammer, rebar, rebar process, horizontal band saw, vertical band saw, honning, plasmacut, oxycut,thread, cutting, routers,routers, marble cnc rounters, Granite, marble, Sandstone and other stone engraving , signs, mold, copper, aluminium, plastic, as well as various metal signs, woodboards and other non-metal materials, woodworking, signage, advertising industry such as architectural model, glass, ProPlus Industry, Profimach,oxy cutting, plasma, Oxy-fuel/plasma, cutting pipes, cutting process, gantry type, CNC Pipe Oxy-fuel/plasma Cutting, aluminium, copper steel, plasma generator, oxy-fuel, beveling, grooving, multi-branch and shrimp sections, 3d cutting,i nduction furnace,induction furnace manufacturer, melting furnace, smelting furnace, electric furnace, induction melting furnace, induction smelting furnace, induction holding furnace, melting aluminum,induction,furnace, furnaces, heating system,applications, Induction heating application,Induction Heating Machine, Induction Heating Equipment,Induction Melting Machine,Furnace manufacturer,Aluminum melting furnace, Copper melting furnace,eco type,cupro type,alupro type,pro series,drill, drilling, conventional drilling machines, radial drilling, column type, counterboring, reaming, boring, tapping, Coordinate Radial Drilling, profimach, cnc drilling, plate drill, cnc drilling plate, drilling milling machines, Steel Structure, Bridge, Electric-communication Tower, Heat Power Station, and Boiler, cutting tool, deep hole drilling, edm drilling, DRILL SMALL & DEEP HOLES ON EXTRA HARD STEEL, ALLOY, METALLIZER, POWDER METALLURGY AND ON METALS THAT ORDINARY DRILLING MACHINE UNABLE TO WORK ON. MAKE STARTING HOLES FOR WIRE-CUTTING, center drilling, microdrilling, drill in metal, drilling in wood, woodworking, spot drilling, novick, chmer, novick edm machines,grinder, grinding, ABRASIVE BELT GRINDING MACHINES, widebelt grinder, dry operation, wet operation, steel meta, aluminium, copper, and alloy zinc, surface napping, surface finishing, deburring, finishing, polishing, graining, lathe, heavy duty lathe, profimach lathe,Novick, Novick Europe, novick edm, novik edm, novik, novik europe, EDM, cnc, nc, cnc edm, novick cnc, masini EDM, EDM europe, prelucrare cu descarcare electrica, masini electroeroziune, Sink EDM, edm gaurire, electroeroziune prin fir, cu imersie, prelucrare prin descarcare electrica, prelucrare edm, masini de gaurit EDM, tehnologie EDM, gaurire gauri mici EDM, Chmer,,A422SL, P4030SL, D4030CL, CM A53CP, AH53C, HM65T, P3020SL submerged type, P4030SL submerged type, P5030SL submerged type, RX853F flushing type, RX853S submerged type, RX1063F flushing type, RX1063S submerged type, RX1065S, RX1283S, Q43SL sybmerged type, Q53SL,EDM, WIRE EDM, WIRE CUT EDM, WIRE CUTTING MACHINE, DIE SINKER EDM, DIE SINKING EDM, HOLE DRILLING, CNC SINKER EDM, HIGH SPEED MILLING MACHINE, CNC WIRE CUT, HIGH SPEED MILLING MACHINE, CNC WIRE CUTlasermach, laser, laser machines, laser equipment, fiber laser, metal pipe, sheet fiber laser, sheet laser cutting, laser cutting, lines, holes, square pipe, stainless steel, plate, aluminium, copper, precision cutting machines, laser marking machines, metal laser, PLATE-METAL SHEET CUTTING, gantry type laser cutting, Lasermach, yaweimilling machines, conventional milling, cnc milling, mill, vertical machining center, horizontal milling, horizontal machining center, Engraving & copy milling machines, Bedmilling machines with moving table, Coordinate boring & milling machines, milling and boring, bed type milling, 5 axis machining, gear milling, 5 face machining center, universal milling machining center, radial milling, milling drilling machines, turret type, high speed vertical, milling centers, bridge type machining center, horizontal boring, boring and milling, gantry type, Profimach, Quaser, You Ji, Awea, Challenger, Fanuc, Kiheung, special purpose milling machine, Vertical machining centers, thread milling machines , gantry milling machineslathe, turning lathe, cnc lathe, vertical turning lathe, complex lathe, complex turning lathe, teach in lathe, lathes, swiss type turning lathe, cnc complex, slant bed, slant bed turning lathe, universal lathe, heavy duty lathe, gap bed lathe, heavy duty turning lathe, Aluminum-Wheel Turning Center, gs series, ga series, flat bed cnc lathe, turning diameter, swing over bed, mac turning diameter, oil country lathe, profimach, goodway, twin spindle, twin turrets, multi tasking,gms series, sd series, sw series, swiss type, swiss turning centers, youji you ji, vertical tunring center, challenger, metal turning, precision turning, goodway cnc lathe, high precision lathe, cnc turning latheoxy cutting, plasma, Oxy-fuel/plasma, cutting pipes, cutting process, gantry type, CNC Pipe Oxy-fuel/plasma Cutting, Profimach, aluminium, copper steel, plasma generator, oxy-fuel, beveling, grooving, multi-branch and shrimp sections, 3d cuttingtube, tubes, bending, bend, cnc tube, nc tube bender, soco, tube benders, Pipe Bending Machines, single or multi-tasking, Tube Benders , Pipe Benders, Cutting Machines,Tube End Finishing Machines, HYDRAULIC ROTARY BENDING, bending accuracy, cutting automation, metal forming process, clamping system, iron worker, ironworker, metal bars, square and round bars, various profiles, pipes, shear cutting, stamping drilling and cutting of various forms, multifunctional ironworker, CNC press brakes, press brake,press brake cnc, press brakes nc, cnc, yawei, tandem press brake, hydrulic crowning, Cybelec DNC600S, Delem DA52 , controller, bending accuracy, HEIDENHAIN linear scales, Upper tool mechanical wedge clamping,cnc pressbrake,PBB,PBH,PBA,PBE,PBM, electro-hydraulic syncronised cnc pressbrake , Yawei-Nisshinbo, small press brake, press brake forming, high speed press, cnc press, servo electric press brake, molding press, yawei press brake, advanced press, platecutting, thread cutting, Profimach, pipe and bar,cnc, plate drilling,Steel Structure, structural component, profimach,rebar, wire cold rolling, straightening, stirrup bender, Wire Mesh Welding Line, Lattice Girder Welding Machines, Cage Making, Rebar Bending, construction, complete processing solution, profimach,steel shapes,beam, chanel, angle, plate, T-shaped cross-section, square,bar, steel fabrication equipment