PTR Series | Thread / Profile Rolling Machines
PTR 30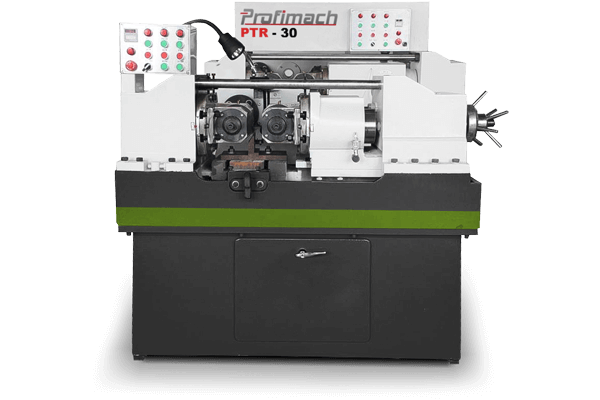 Specification PTR 30
| | |
| --- | --- |
| Max. rolling pressure | 80 kN |
| Rolling material diameter | 5 – 30 mm |
| Thread max. Pitch | 2 mm |
| Outer roller diameter | 120 – 170 mm |
| Inner roller diameter | 54 mm |
| Max thickness of roller | 100 mm |
| Spindle center distance | 120 – 240 mm |
| Axis tilting angle | ±3 ° |
| spindle speed | 34,43,57,72 rpm |
| Main motor power | 4.0 kW |
| hydraulic motor | 2.2 kW |
| Cooling motor | 90 W |
| overall dimension(L*W*H) | 1480x1500x1050 mm |
| Machine weight | 1100 kg |
Details PTR 30
Thread / Profile Rolling Machines

As the global market leader in ECONOMICAL metal working machinery, PROFIMACH® offers the best and easiest entry into the world of metal cutting industry and all metal mass production business at a very affordable budget. We provide a wide range of product choices for every metal processing job. Our machines bring a cost-effective, low-maintenance, environmental-friendly solution to your organization.

PROFIMACH conventional and CNC machine tools are built by top machine tools manufacturers to satisfy the highest and toughest standards demanded by the high tech European market. We deliver a machine that provides quality cutting and high tolerances, low productivity loss between jobs and less maintenance costs, equating to a higher return on investments.

Our success is built on long-standing customer relationships, technical expertise and sensitivity to our customer needs. We always look for improving our efficiency while adding extra value for the benefit of our customers.

THREAD ROLLING PROCESS

Rolling process is recommended when threads are required with superior tensile, shear, and fatigue strength. Other processes remove material to produce the thread form, but thread rolling displaces the material with hardened steel dies. Rolling dies typically have a hardness between a range of RC 58-63 and there is a specific set of dies for each thread size and each thread form.

Static tensile tests on parts formed through thread rolling show overall increases in strength of about 30 percent. Fatigue strength is improved by 50-75 percent. Tests on bolts first heat-treated to a hardness of 35-40 Rockwell C and subsequently rolled show even greater fatigue strength.

Material requirement:
A minimum elongation of 12% and tensile strength no greater than 110Kg/square mm is required for good rolling result. This includes most steels, aluminum, cast irons, brass with at least 60% copper and light alloys. Material to be rolled must not be harder than HRC 40.
These basic features give the material formability; softer materials are easier to roll, but thread quality is not so good; harder materials produce excellent thread finish yet with a compromise in the tools life. Examples:





Thread rolling speed:
It is important to select the correct rolling speeds to obtain good thread quality and long life of the rolls. The correct speeds depend on the thread form to be rolled, the elongation and tensile strength of the material and the speed capabilities of the machinery in use.
If too low a rolling speed is used the material may not flow as required and the rolls and head may be damaged.
Thread rolling speeds are always much higher than thread cutting speeds!

Recommended thread rolling feed speeds:





High benefits of Thread rolling process are:
✓ Lower costs
✓ Increased production
✓ Faster lead times
✓ Superior quality and accuracy:
 ○ Stronger threads
 ○ Improved finish
 ○ More accurate profile

PRT – THREAD & PROFILE ROLLING MACHINES

MAIN CHARACTERISTICS

Versatility – with the ability to do both infeed and thru-feed, a standard feature on most of our machines, you can form anything from a bolt or stud to a long-threaded bar.

Simplicity – With most setups performed in less than ½ hour, our machines can be used for both production and custom thread or form rolling.

Cost-effectiveness – The ability to tilt die spindles to the helix angle of thread lets our customers use lower-cost, annular ring dies.

Productivity – Speed-up dies can increase work feed rate while keeping RPMs of the work piece constant. Helical slow feed dies can decrease work feed rate, thereby allowing material to flow and form at a slower pace – requiring less horsepower and pressure than needed for annular dies.

Maintainability – easy to maintain and service due to simple design and high-quality components.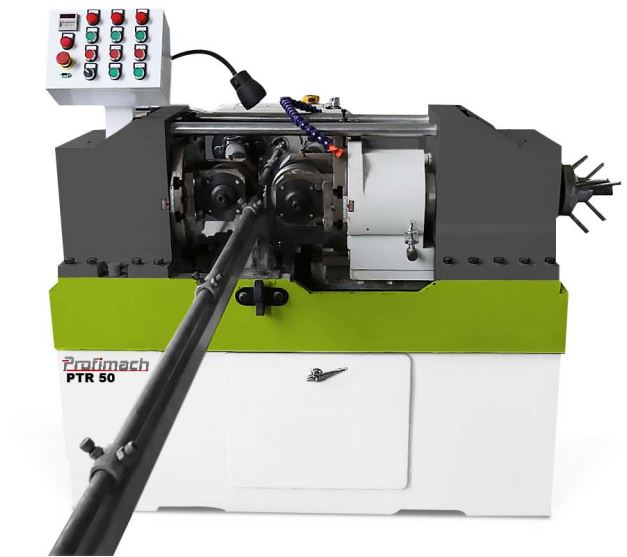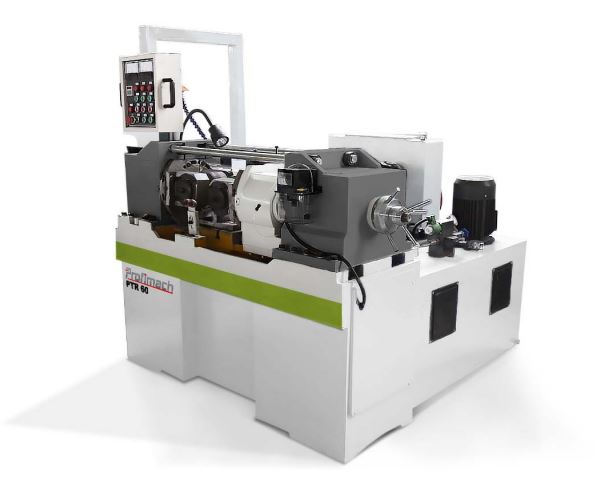 Standard Accessories:

✓ ONE SET OF THREADING ROLLERS
✓ WORK LIGHT
✓ COOLANT UNIT
✓ MACHINE LEVELING PADS AND FOUNDATION BOLTS
✓ LUBRICATION SYSTEM
✓ MAINTENANCE TOOL KIT
✓ OPERATION MANUAL
✓ CE NORMS


THREAD ROLLING EXAMPLES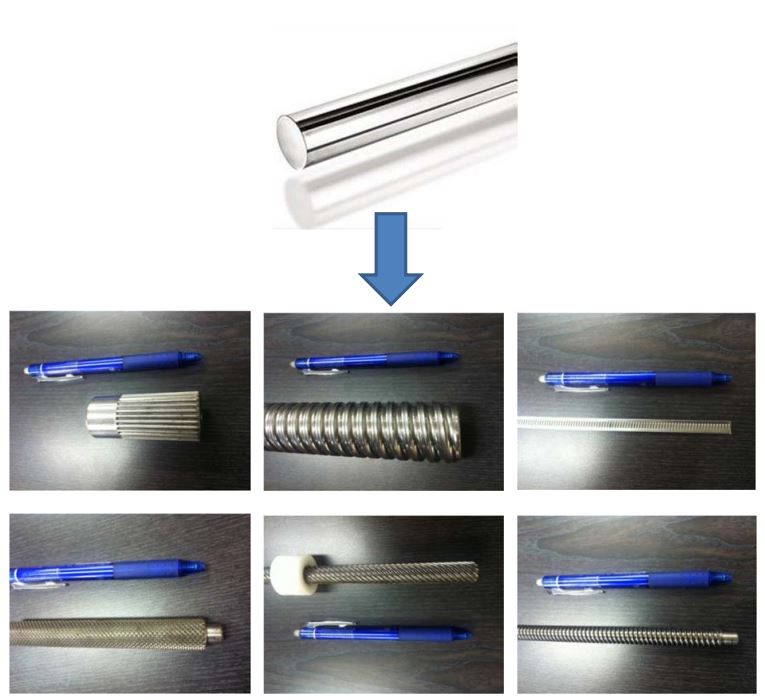 profimach, profi, machinery, machinetools, machine tool,machine tools, euro, profiturn, profimill, euroturn, euromill, conventional,turning lathe, conventional turning lathe, saw, profisaw, sawing, eurosaw, metal cutting, metal milling, precision, turning, complex milling, complex turning, cylindrical grinding,machine tools suplier, machines, machinetools, machine-tools, maintainance machine tools, grinder surface, drill, conventional drilling, cnc drilling,wire, wire bending, bender,forging hammer, rebar, rebar process, horizontal band saw, vertical band saw, honning, plasmacut, oxycut,thread, cutting, routers,routers, marble cnc rounters, Granite, marble, Sandstone and other stone engraving , signs, mold, copper, aluminium, plastic, as well as various metal signs, woodboards and other non-metal materials, woodworking, signage, advertising industry such as architectural model, glass, ProPlus Industry, Profimach,oxy cutting, plasma, Oxy-fuel/plasma, cutting pipes, cutting process, gantry type, CNC Pipe Oxy-fuel/plasma Cutting, aluminium, copper steel, plasma generator, oxy-fuel, beveling, grooving, multi-branch and shrimp sections, 3d cutting,i nduction furnace,induction furnace manufacturer, melting furnace, smelting furnace, electric furnace, induction melting furnace, induction smelting furnace, induction holding furnace, melting aluminum,induction,furnace, furnaces, heating system,applications, Induction heating application,Induction Heating Machine, Induction Heating Equipment,Induction Melting Machine,Furnace manufacturer,Aluminum melting furnace, Copper melting furnace,eco type,cupro type,alupro type,pro series,drill, drilling, conventional drilling machines, radial drilling, column type, counterboring, reaming, boring, tapping, Coordinate Radial Drilling, profimach, cnc drilling, plate drill, cnc drilling plate, drilling milling machines, Steel Structure, Bridge, Electric-communication Tower, Heat Power Station, and Boiler, cutting tool, deep hole drilling, edm drilling, DRILL SMALL & DEEP HOLES ON EXTRA HARD STEEL, ALLOY, METALLIZER, POWDER METALLURGY AND ON METALS THAT ORDINARY DRILLING MACHINE UNABLE TO WORK ON. MAKE STARTING HOLES FOR WIRE-CUTTING, center drilling, microdrilling, drill in metal, drilling in wood, woodworking, spot drilling, novick, chmer, novick edm machines,grinder, grinding, ABRASIVE BELT GRINDING MACHINES, widebelt grinder, dry operation, wet operation, steel meta, aluminium, copper, and alloy zinc, surface napping, surface finishing, deburring, finishing, polishing, graining, lathe, heavy duty lathe, profimach lathe,Novick, Novick Europe, novick edm, novik edm, novik, novik europe, EDM, cnc, nc, cnc edm, novick cnc, masini EDM, EDM europe, prelucrare cu descarcare electrica, masini electroeroziune, Sink EDM, edm gaurire, electroeroziune prin fir, cu imersie, prelucrare prin descarcare electrica, prelucrare edm, masini de gaurit EDM, tehnologie EDM, gaurire gauri mici EDM, Chmer,,A422SL, P4030SL, D4030CL, CM A53CP, AH53C, HM65T, P3020SL submerged type, P4030SL submerged type, P5030SL submerged type, RX853F flushing type, RX853S submerged type, RX1063F flushing type, RX1063S submerged type, RX1065S, RX1283S, Q43SL sybmerged type, Q53SL,EDM, WIRE EDM, WIRE CUT EDM, WIRE CUTTING MACHINE, DIE SINKER EDM, DIE SINKING EDM, HOLE DRILLING, CNC SINKER EDM, HIGH SPEED MILLING MACHINE, CNC WIRE CUT, HIGH SPEED MILLING MACHINE, CNC WIRE CUTlasermach, laser, laser machines, laser equipment, fiber laser, metal pipe, sheet fiber laser, sheet laser cutting, laser cutting, lines, holes, square pipe, stainless steel, plate, aluminium, copper, precision cutting machines, laser marking machines, metal laser, PLATE-METAL SHEET CUTTING, gantry type laser cutting, Lasermach, yaweimilling machines, conventional milling, cnc milling, mill, vertical machining center, horizontal milling, horizontal machining center, Engraving & copy milling machines, Bedmilling machines with moving table, Coordinate boring & milling machines, milling and boring, bed type milling, 5 axis machining, gear milling, 5 face machining center, universal milling machining center, radial milling, milling drilling machines, turret type, high speed vertical, milling centers, bridge type machining center, horizontal boring, boring and milling, gantry type, Profimach, Quaser, You Ji, Awea, Challenger, Fanuc, Kiheung, special purpose milling machine, Vertical machining centers, thread milling machines , gantry milling machineslathe, turning lathe, cnc lathe, vertical turning lathe, complex lathe, complex turning lathe, teach in lathe, lathes, swiss type turning lathe, cnc complex, slant bed, slant bed turning lathe, universal lathe, heavy duty lathe, gap bed lathe, heavy duty turning lathe, Aluminum-Wheel Turning Center, gs series, ga series, flat bed cnc lathe, turning diameter, swing over bed, mac turning diameter, oil country lathe, profimach, goodway, twin spindle, twin turrets, multi tasking,gms series, sd series, sw series, swiss type, swiss turning centers, youji you ji, vertical tunring center, challenger, metal turning, precision turning, goodway cnc lathe, high precision lathe, cnc turning latheoxy cutting, plasma, Oxy-fuel/plasma, cutting pipes, cutting process, gantry type, CNC Pipe Oxy-fuel/plasma Cutting, Profimach, aluminium, copper steel, plasma generator, oxy-fuel, beveling, grooving, multi-branch and shrimp sections, 3d cuttingtube, tubes, bending, bend, cnc tube, nc tube bender, soco, tube benders, Pipe Bending Machines, single or multi-tasking, Tube Benders , Pipe Benders, Cutting Machines,Tube End Finishing Machines, HYDRAULIC ROTARY BENDING, bending accuracy, cutting automation, metal forming process, clamping system, iron worker, ironworker, metal bars, square and round bars, various profiles, pipes, shear cutting, stamping drilling and cutting of various forms, multifunctional ironworker, CNC press brakes, press brake,press brake cnc, press brakes nc, cnc, yawei, tandem press brake, hydrulic crowning, Cybelec DNC600S, Delem DA52 , controller, bending accuracy, HEIDENHAIN linear scales, Upper tool mechanical wedge clamping,cnc pressbrake,PBB,PBH,PBA,PBE,PBM, electro-hydraulic syncronised cnc pressbrake , Yawei-Nisshinbo, small press brake, press brake forming, high speed press, cnc press, servo electric press brake, molding press, yawei press brake, advanced press, platecutting, thread cutting, Profimach, pipe and bar,cnc, plate drilling,Steel Structure, structural component, profimach,rebar, wire cold rolling, straightening, stirrup bender, Wire Mesh Welding Line, Lattice Girder Welding Machines, Cage Making, Rebar Bending, construction, complete processing solution, profimach,steel shapes,beam, chanel, angle, plate, T-shaped cross-section, square,bar, steel fabrication equipment